Presently, the iPhone 12 series comes in four models; iPhone 12 Pro Max, iPhone 12 Pro, iPhone 12, and iPhone 12 Mini, with varying screen sizes, camera configurations, colors, and storage across each model. Despite the seeming complexities, you will learn all you need to know about iPhone 12 in this article. Without any further ado, let us get straight into it!
Amazing iPhone 12 Features You Probably Didn't Know
5G Supported
All the four iPhone 12 models all feature 5G technology, supporting both mmWave and sub-6GHz networks. While the latter offers higher resistance to interference, making it travel farther, the former, although faster, is more vulnerable to interference and works best when close to cell towers.
Apple understands the power-draining effects the 5G technology has on batteries. Hence, whenever the 5G isn't needed, the phone automatically switches to 4G, using the Smart Data Mode feature.
Processor
iPhone 12 is powered by the new A14 Bionic processor, designed specially to save battery life and improve phone performance. As a six-core processor, the processor is broken down into two high-performance cores and four high-efficiency cores. The 2020 iPad Air 4 also uses the A14 Bionic processor.
Apart from being amazingly faster, the A14 Bionic processor is pretty power-efficient. It can process over 10 trillion operations per second, which increases machine learning and the speed of computation.
Display
iPhone 13 features a sport OLED screen, manufactured with Apple's High Dynamic Range (HDR) and Super Retina XDR display. This screen display offers about 1,200 nits of max brightness and a 2,000,000:1 contrast ratio. Technically, this is the most advanced screen ever incorporated into an iPhone.
Comparatively, these display features offer better energy efficiency, greater image quality, better contrast, and more accurate colors.
Ceramic Screen Shield
A ceramic Shield screen refers to a screen protected with ceramic on its front display. The latest iPhone 12 series features this type of screen to ensure the phone is more drop resistant, tougher, and more resistant to impairment or stress. Apple's testing claims that this approach to protecting the iPhone 12's glass increases such a phone's drop performance four times than iPhone 11.
Rear Cameras
While the iPhone 12 Pro and iPhone 12 Pro Max feature three 12-megapixel, telephoto, ultra-wide, and wide rear Cameras, the iPhone 12 and iPhone 12 mini has just two 12-megapixel cameras ultra-wide and wide cameras. The iPhone 12 Pro series also features a fourth lens used for LiDAR mapping, ensuring an accurate projection of objects' depth And distance. Technically, Apple claims these rear camera features will offer approximately 27% extra light in low-lighted areas (or conditions), especially for the Pro series.
Battery
Another thing you need to know about your iPhone 12 is its larger battery. iPhone 12 batteries are typically about 10% larger than the batteries in iPhone 11. This is majorly because of the included 5G technology in the iPhone 12 series, which causes extra battery drain. Although the iPhone 12 Pro and iPhone 12 Pro Max offers a minimum of an hour extra battery life, the iPhone 12 mini's battery life still remains somewhat limited, particularly because of the phone's smaller size.
More features in the iPhone 12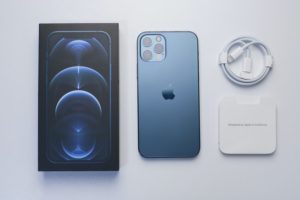 Below are other things you probably didn't know about your iPhone 12:
iPhone 12 offers higher resistance to water and dust. Your phone can last about 30 minutes in water without experiencing any damage.
The phone includes a fast-charging feature. You can charge your iPhone 12 up to 50% within 30 minutes.
iPhone 12 has Dual Sim using the eSIM feature.
iPhone 12 is being sold with phone accessories. Apple claims this is done to reduce accessories' carbon footprint and keep the phone's price down.