Trying out a different kind of food from restaurants is fun. If ever there's a time your friends would ask you for a food crawl, well it might cost more than your month's salary. But fear not, with this list, we will show you the list of cheap restaurants you can go to in every state. This will also save your wallet and also your taste buds from eating overpriced and overrated food that you'll regret.
Basilic Vietnamese Kitchen in Arizona
This restaurant is located in Phoenix, Arizona where you can try their banh mi, a Vietnamese sandwich that has become the critic's favorite food for lunch. The banh mi sandwich only costs around $7 and goes with chicken, beef or, pork plus lots of pickled and fresh veggies with herbs on a crispy baguette.
Kounter Kulture in Saint Louis Missouri
Their blue crab rangoon slathered with marmalade will definitely make your eyes roll into the back of your head. Their price ranges only from $11 to $30, a true gem at the heart of St. Louis.  And for spicy lovers out there, Kounter Kulture's chili oil is a must-try!
Bajamar Seafood & Tacos located in  Las Vegas, Nevada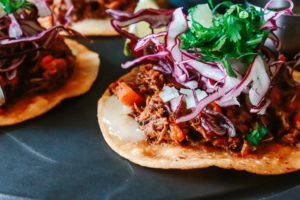 Their hot shrimp taco and Lucas Taco are one of the best tacos in this location. But for me, I enjoyed the savory shrimp taco more which ranges under $10.
Bangkok Cuisine in Nevada
Bangkok cuisine has a very good lunch option for a price under $10. You will be served with a fried appetizer, two entrees with rice, and a bowl of soup. Each day you will get 5 entrees on rotation to choose from every time you visit. There's also Thai basil, pork with chilis, pad thai chicken, and spicy string beans.
Authentic Limon Turkish Kebap House located in  Hellertown, Pennsylvania
Authentic food with a wide variety of flavors, adding in some big servings. They have wraps and gyros served at lunchtime which is perfect! The most go-to order here is the chicken kebab and falafel, people just couldn't get enough with them. For dessert, you might want to order their Turkish coffee paired with baklava. Limon Turkish kebap restaurant's price range is from $11 to $30 which is quite affordable for big servings and a lot of side dishes.
Sandwich Bar in Wyoming
Everyone must have heard of a salad bar, however, what might be said about a sandwich bar? In a restaurant named Sandwich Bar, you can start making your own sandwich buffet style! You only pay per ounce like any other salad bar. You can choose among different pieces of bread, rolls, and tortillas with lots of vegetables, meat, spreads, and dressings. It's fun trying out new combos so you'll surely discover what's the best sandwich for you!
In West Valley City, Utah lies the Curry Pizza restaurant
For first-timers, when they travel to Utah they visit this amazing place. They offer different kinds of pizzas which are made on their menu and are so delightful and tasty! The price range for this cheap restaurant is under $10. You could genuinely taste the new fixings and Indian masala. A truly cherished spot and I desire to discover something like this from my location.
Knot Norm's Catering Co., in Norwalk, Connecticut
Here you'll experience the best-tasting fish and chips and their lobster bisque is way out of this world! And there's more, frequent customers also recommend the fish tacos that have the perfect crispiness. For those who are looking for a great ambiance and good food, visit Knot Norm's restaurant.
Porky's Kauai, in Waimea, Hawaii
Porkys is an awesome tiny joint in Waimea where you can choose from 4 flavors. Well, you can buy 4 flavors cause you will not regret it. The scrumptious pork on sausage and the pineapple and pork on rice!