Do you want to know the best 15-minute meal recipes you can prepare when you are in a rush? We prepared the most delicious recipes for you!
But, if you are in such a rush that you can't afford to spend 15 minutes on a meal, why don't you try these 5-minute recipes using only 5 ingredients?
Sometimes it is really hard to find a little time to prepare a nice, delicious meal for yourself or your family. The schedule can be so tight that we can't spend hours preparing meals. On the other hand, you probably don't want to buy fast food all the time because it is really an unhealthy choice.
But, don't worry, you don't have to buy fast food, all you need is a little bit of effort and you will have a yummy meal in no time. Therefore, here are the best recipes for those who are in a rush:
1. Creamy Mascarpone Spinach Pasta
If you are a fan of creamy pasta dishes, this is a great recipe for you. You can prepare it so fast and the result is amazing.
Ingredients:
3 and 1/2 cups of pasta
4 oz of baby spinach
3 and 1/2 oz of mascarpone cheese
1 clove of garlic – sliced
2 tbsp of shallots – sliced
1 tsp of salt
1/2 tsp of black pepper
1 tsp of lemon zest
First, you need to cook the pasta. While the pasta is cooking, slice the garlic and shallots. Then, take a large bowl, and put the garlic, shallots, spinach, mascarpone cheese, salt, and pepper in it.
Then, once the pasta is done, drain it. But remember to save 1/2 cup of the water that you cooked the pasta in. Pour the pasta and the water into the bowl with other ingredients.
After that, stir all the ingredients for about one to two minutes, until you melt the cheese. Serve in the small bowls, pour the lemon zest over the pasta and decorate the meal with garnishing herbs such as basil, cilantro, etc.
2. Simple Vegetable Stir Fry
Vegetable stir fry is a great dish for those who don't like or don't want to eat meat. The great thing about it is that you can always add any vegetable you like or take out any vegetable you dislike. But, you will still get a great dish at the end.
Ingredients:
1 tbsp of olive oil
1 cup of carrots – sliced
3 cloves of garlic – minced
1 red bell pepper – sliced
2 cups of broccoli
1 yellow bell pepper – sliced
1/4 cup of soy sauce
1 cup of baby corn
1/2 cup of chicken broth
1 cup of mushrooms – sliced
3 tbsp of sugar
1 tsp of seed oil
1 tbsp of cornstarch
herbs and seeds for garnishing
Place a large skillet on the stove over medium heat and add olive oil. Then add all the vegetables – red and yellow peppers, broccoli, carrots, baby corn, and mushrooms. Cook for about two to three minutes.
Take a small bowl and mix all of the remaining ingredients and make a sauce. After that, pour the sauce over the vegetables in the skillet and cook for a while until it thickens. You can garnish the meal with herbs and seeds you like.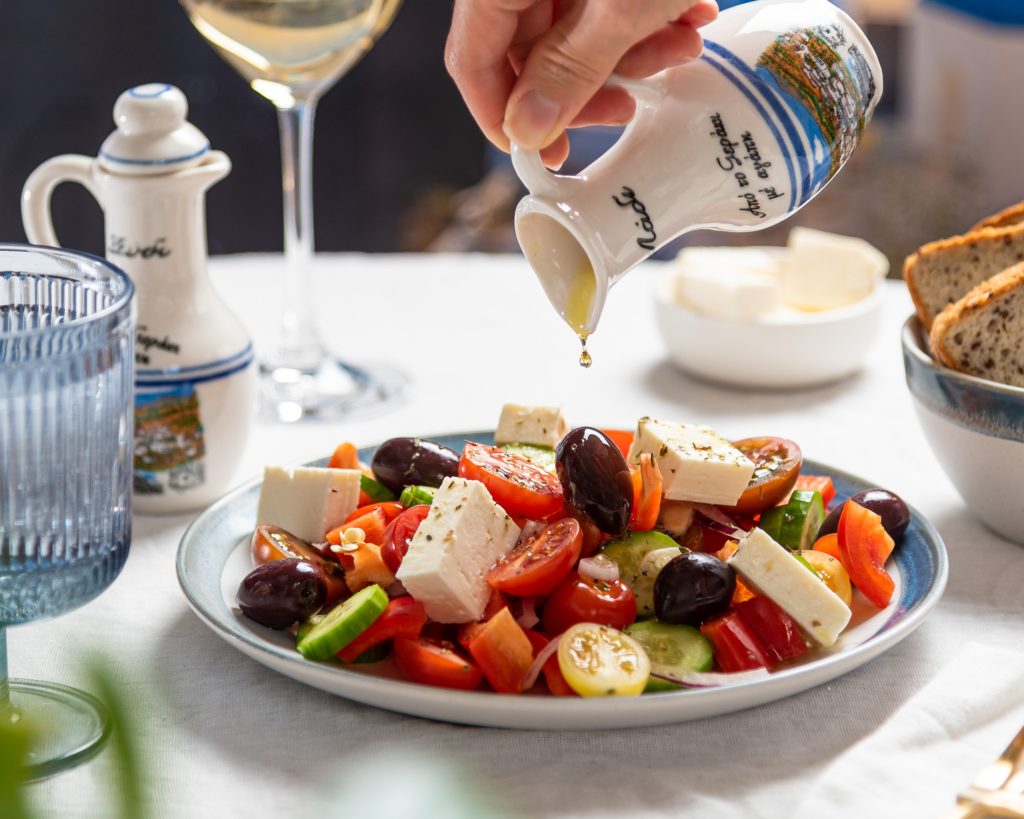 3. Gluten-free Greek Salad
If you are a fan of Greek cuisine and you are looking for something healthy to make quickly and easily, then the greek salad is a perfect choice for you. This dish is often a choice during the summer but you can prepare it any time.
Ingredients:
1 cucumber – cut into large slices
4 tomatoes – cut into large pieces
3 and 1/2 oz of feta cheese – crumbled
1/2 of red onion – sliced
20 olives – without pits
1 tsp of red wine vinegar
3 tbsp of olive oil
dry oregano
Cut the cucumber and tomatoes into large pieces, and the onion into thin slices. Then, take a small bowl and mix the olive oil and vinegar.
Take a large bowl and place the cucumber, tomatoes, onions, and olives. Pour the sauce over and mix slowly. Place the crumbled feta cheese over the top and garnish with dry oregano.