Today, our world is filled with fast-food restaurants. We have multiple restaurants inspired by different cultures. Around the world, there are more amazing fast-food restaurants that will not just feast your stomach, but also your eyes.
Here is a list of outstanding fast food restaurants that is worth travelling to around the world.
A Mcdonald's restaurant from a bank made from marble in Norway
Loaded with marble and gold, this fast-food restaurant was an old bank before in Norway in the city of Kristiansand. This restaurant serves the usual orders and more! Two years ago, it was announced that it will be serving vegan food on its menu. You heard it right! You can now enjoy bean-based nuggets or burgers!
A cantina based in California with a perfect beachfront location
Taco bell resides in this amazing location facing the beach. Experience eating a burrito slathered with a spicy garlic sauce and cheese. Taco Bell constructed a  branch in California that looks like a surf shack with a patio facing the sea, a place for your surfboard, recycle bins, and compost. There's also a takeout window for sandy feet customers so they could order their item without making a mess inside the restaurant.
A coffee shop located in a townhouse in Japan
A 100-year-old townhouse in Kyoto also known as Machiya, is where Starbucks stands. Fitted in a well-preserved location of wooden Machiyas from  Edo-era. There's also a traditional garden where guests can remove their shoes if they want to sit while dining.
A fast-food restaurant under sculptures
KFC is embedded in a dramatic Soviet mural from the 1960s. A perfect example of art also called Social Realism.  A sculpture from a different time serving an unusual contrast from a crispy fried chicken and heroic communist sculptures.
A magical fast food in a Broadway
Mcdonald's settling in with the glamour and glitz in Times Square. This Mcdonald's branch sparkles its name like a metropolitan theatre. Once your inside you can see the wonderful view of the New York skyline.
Pizza hut located in Giza, Egypt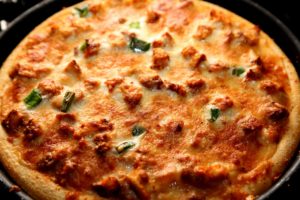 From the opposite street of the Pyramid of Giza and the great sphinx. Here lies the location of Pizza hut. Customers can relax in an airconditioned room while eating pizza top it up with a cool drink and an unhampered sight to see of the ancient wonder.
Burger King inside the US military base in Afghanistan
You wouldn't be expecting to find fast food in a desert but here you will find Burger King! A popular restaurant for soldiers which always have long lines.
Starbucks in the heart of Seoul in Korea
A not so likely place for a Starbucks to be in. Located in the historical district of Seoul but you can find it in a traditional Korean street along with antique stores. Nonetheless, it is the only one where the sign has been altered from English.
A red and silver vintage plane you'll see in New Zealand
A DC-3 magnificent plane located in New Zealand and is currently the coolest branch of Mcdonald's in the world. With seating for 20 people and this has become a top destination for adults and most especially for children.
Mcdonalds in China
This Mcdonald's blends easily on the streets of Lijiang, China. Also lies on the other with the other buildings at the UNESCO world heritage site. Enjoy the Nakhi architecture with the mountains and river view while devouring your favorite burger.
Eating at fast-food restaurants is a good option for travelers, it's affordable and pleasantly familiar more especially to those who are not comfortable going out of their comfort zone. So much for traveling right? This is an easy and budget option if you plan on visiting these fast-food restaurants.