One of the most popular sports events is the US Open. It is so big that it has a signature drink called honey deuce that is also a big hit to the consumers.
Honey Deuce was first introduced in 2007 as the tennis competition's official cocktail, and over 1 million Honey Deuces have been sold since. You can buy this cocktail for $20.
The Honey Deuce is a refreshment drink mixed with vodka, raspberry liqueur, lemonade, and a garnish of honeydew balls. To make this refreshing cocktail, you would need to pre-chill your glass until it is frosty, then add 1.4 oz of vodka, 3 oz lemonade, and .5 oz raspberry liqueur. 
How Honey Deuce is Made During the Event
During the US open, there is a team composed of more than 100 workers to create Honey Deuces from scratch. More than twenty stalls at Billie Jean King National Tennis Center have bartenders create this refreshing drink. There is also a team that is solely dedicated to creating fresh honeydew ball skewers. The executives of Grey Goose, the brand of vodka used in creating this drink, note that all of the honeydew balls are not frozen and always fresh. 
How to Create Honey Deuce at Home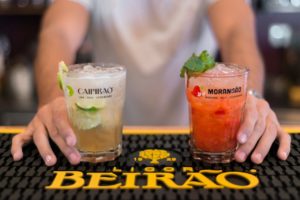 But since we are in a different situation because of covid, a lot of tennis fans will surely miss the famous seats of New Yor City's Billie Jean King National Tennis Center. But even if you can't watch the opening live, you could still enjoy honey deuce safely at your own home.
Grey Goose also released a do-it-yourself cocktail kit with complete ingredients to create this cocktail due to the ongoing pandemic. Grey Goose also released a limited-edition bottle to celebrate the annual event. You won't miss it because of the bright tennis balls and racquet on its label. The kit also includes collectible commemorative cups for its patrons who have been enjoying this refreshing and iconic drink that will give you a taste of the Open at the comfort of your own home.
There are three different sizes of this cocktail kit; 8, 12, and 16 cocktails that include a limited edition of Grey Goose bottle, freshly squeezed lemonade juice, Chambord liqueur, and even pre-scrooped honeydew balls on a skewer. A commemorative US Open cups are also included!
But if you do not want to order the DIY kit, you can follow this recipe to create this refreshing drink.
Things You Will Need
1.4 oz of Grey Goose vodka (No replacement!)

3 oz of freshly squeezed lemon juice

.5 oz of raspberry liqueur (any brand will do)

3 balls of honeydew for garnish
Directions
Chill your commemorative by putting it in the fridge or freezer. You could also fill it with ice-cold water for 5 minutes.

Once you notice that the glass is perfectly chilled, fill it with ice.

Add the vodka, fresh lemonade, and raspberry liqueur.

Garnish the drink with the honeydew balls.

Additional Tips in Creating Honey Deuce
If you want to serve and make honey deuce like a professional, then you could also follow these additional steps.
Chill the Glass Before Preparing the Drink: Since cocktails are always great when it is cold, we highly suggest that you keep your commemorative cups in the chiller if you have enough space.
But if your freezer has limited space, you could also fill up the glass with a lot of ice to chill the glass while you prepare the other ingredients of this refreshing cocktail.
Squeeze fresh lemon for the lemonade: Nothing beats a freshly squeezed lemonade.
Place your honeydew melon in the freezer: Keeping your honeydew in the freezer until it is firm would help you create a perfectly spherical ball. You could also use a melon baller.