Lady Amelia Windsor
Lady Amelia Windsor is the youngest of the Windsor children born to George Windsor, Earl of St Andrews, and Sylvana Tomaselli. Throughout her career, Lady Amelia has made her mark on the catwalk as well as off it.
She was signed to Storm, the same agency that manages superstars Kate Moss and Cara Delevigne. In February 2017, she walked for Dolce & Gabbana with a golden crown during Milan Fashion Week.
Lady Amelia Windsor appeared on Tatler magazine's cover two years ago as "The Most Beautiful Royal Member." She has since walked in prestigious fashion shows and worked behind the scenes with some of the most recognizable fashion brands. She also has an impressive Instagram following, in contrast to many royals who avoid social media entirely.
Queen Maxima of the Netherlands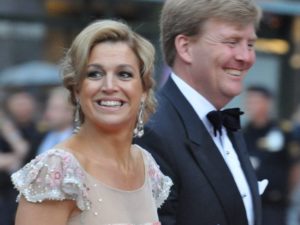 The Netherlands' Queen Maxima is known for her admirable sense of style. Her colorful hats, long dresses, or ruffle-adorned gowns indicate the boldness in her personality, while her frocks sometimes feature lavish embroidery and lace.
Even though her outfits are often considered daring, she wears them with confidence and her iconic smile, and she has admired some of the top designers, such as Tom Ford, Givenchy, and Valentino.
Queen Rania of Jordan
Some Royals prefer to keep things classy and timeless, while others like to stay up to date and chic. Rania of Jordan is undoubtedly one Royal who tends to lean more towards the trendier side of fashion, which we applaud her for in an era when fashion is quite conservative.
Queen Rania is a renowned activist and fashion icon in equal measure. Her exquisite trousseau features familiar fashion names, such as Dior and Fendi, as well as Middle Eastern designers like Elie Saab and Azzi & Osta.
With 6.3 million followers, the Queen has built an impressive Instagram following showing off the striking outfits she wears on Royal appearances.
Queen Letizia of Spain
The Queen of Spain is known worldwide for her classy yet modern approach to regal dressing. Although she has a more fashionable style than Queen Rania, she remains elegant and humble to stay suitable for a Royal position.
Despite her title as Queen, she adheres to her style and stays away from the formal, outdated fashion that some Royals still wear.
Queen Letizia mixes brands like Zara and Mango with Spanish designer Felipe Varela to create an eclectic look. Her daytime looks are stylish and refined, but she knows how to look special for formal occasions.
Princess Charlene of Monaco
Charlene Wittstock was an Olympic swimmer for South Africa before becoming royalty. Her fashion choices have been intriguing since she married Prince Albert II of Monaco.
She often wears modest costumes as it befits her stunning appearance. Style-wise, she favors classic brands such as Dior, Ralph Lauren, and Armani.
A particular style moment was the sparkling silver jumpsuit she wore at the 69th Monaco Red Cross Ball Gala at Sporting Monte-Carlo.
Duchess of Sussex, Meghan Markle
Meghan Markle has already improved the Royal style in her short tenure as a Duchess. The royal family has definite guidelines about how they should dress, but Meghan makes her own rules.
Among one of the most talked-about women during the past few years, it's no wonder 'The Meghan Effect' continues to be talked about.
Listed as 2019's 'Most Influential Fashion Icon,' Meghan Markle's 'relaxing princely' style – from messy buns to shirt dresses and to promote sustainable brands – has captivated women in a worldwide audience.
 Queen Elizabeth
A Royal fashion ranking wouldn't be complete without the majestic Queen Elizabeth! The Queen has worn color-coordinated outfits of all hues and shades throughout her reign, a milestone that is certainly deserving of acclaim.
Almost every time, she adorns herself with stunning fascinators, jewelry, and gloves, guaranteeing to be her wardrobe's most enduring pieces.