iPhone 12 hasn't been around for long, but considering the glorious market acceptance, it was destined to succeed from the word go. We can agree in unison that iPhone 12 is one of the most successful projects by Apple. However, Apple lovers hold their hopes high on the long-awaited iPhone 13. According to rumors, iPhone 13 will hit the stores in October 2021 and it will feature multiple improvements in its design, features, and specs.
Design Upgrades
The leaked data on the design upgrades indicate that iPhone 13 will experience a massive overhaul on its camera notch and bump. The bump will no longer come as a separate set for each lens but as a single glass sheet covering all the lenses. The camera notch will be removed or reduced. Further rumors indicate that iPhone 12's IP68 waterproof design will be replaced by a solider and a more durable waterproof design that would support underwater photography.
Performance
iPhone 13's predecessors run on Apple's A14 bionic processor. Rumors have it that the 2021 iPhone model will run on Apple's latest A15 Bionic processor. This iPhone model will likely include a 5nm chip and N5- technology to deliver outstanding power efficiency, longer battery life, and better performance. Apple will probably add an in-display fingerprint sensor to its 2021 iPhone models along with ultra-wide lenses and lower apertures to improve autofocus and shooting performance in low-light settings. Rumors also suggest that iPhone 13 will have stronger magnets and stainless steel coating.
Display
Faster 120Hz refresh rates are the norm in modern high-end smartphones. The iPhone 12 has a 60Hz display, which is lower and somehow outdated. The 2021 iPhone models are expected to feature the 120 Hertz LTPO displays, which offer quicker reaction times and slicker animations. Rumors have further confirmed that this 2021 iPhone model will use the high-end LTPO OLED displays, supporting adaptive image frequency.
Larger Storage
We've had the normal low storage capacities in iPhones for a long. While iPhone 12 Pro models had big enough storage capacities of 512GB, Apple fans are expecting the next-generation iPhone 13 models to have larger storage capacity. If the predictions come to pass, iPhone 13 Pro models will have a maximum internal storage capacity of 1TB. That's enough storage to support film shooting in high resolution.
Wi-Fi 6E Technology and Biometrics
It's alleged that iPhone 13 phones will support the Wi-Fi 6E technology. For clarification purposes, Wi-Fi 6E is an advanced internet-sharing technology that delivers faster data rates, lower latency levels, and superior performance. You should also expect to see Touch ID and Face ID in Apple iPhone 13. The two intelligent security functions will allow for the ease of unlocking the iPhone under multiple conditions.
Connectors and Cables
Apple has been using a lightning connector on most of its iPhone products for quite a long time. iPhone 13's predecessor had the same connector, as well. However, based on long-established rumors, the long-awaited iPhone 13 will likely use the port-less design. There are some predictions spreading around that allege the 2021 iPhone model may use USB-C, but according to experts, these rumors don't hold water. In fact, most expert predictions emphasize that Apple will most likely use the port-less design coupled with MagSafe on its new iPhone model. The wireless Magsafe 15W connector allows for efficient charging and ease of connecting different accessories.
Colors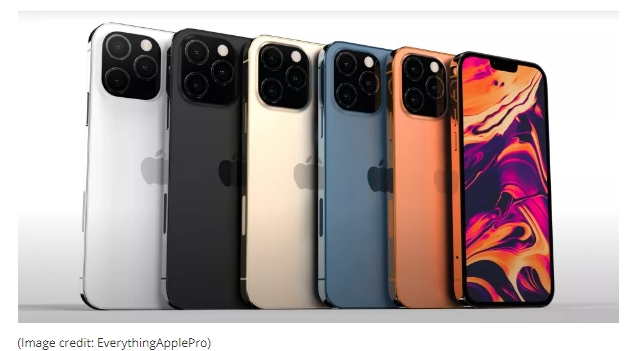 iPhone 13 is expected to be the same size and design as the iPhone 12. To entice buyers, iPhone 13 is expected to come in additional colors unlike iPhone 12 which has Red, Blue, Black, White, and green. We expect to have Gold, Graphite, Pacific blue, and silver colors on iPhone 13.
Further leaks suggest that the 13 Pro will be available in a new matte black color that will reportedly replace the graphite color and be much darker.
Price 
The iPhone 13 will be an iterative upgrade to the iPhone 12 and hence may not have a very big review of its price. On a speculative basis, the iPhone 13 mini would start at $799 (64GB), Pro at $999 (128GB), and iPhone 13 Pro Max at $1,099 (128GB).