Hamburger is among the most popular foods served around the globe and their popularity does not seem to be slowing down. These burgers are simple to make, easy to serve, and are crazy delicious.
The hamburgers offer a lot of flexibility as you can change the recipes and add ingredients you love to give your burgers an extra boost of flavor.
Innovative Ideas to Update Hamburger
A classic hamburger is delicious on its own but that does not mean there is no room for improvement. Here are a few scrumptious ideas to update the hamburger.
Add an Egg
An egg is an excellent addition to a hamburger. Adding a fried egg is an old method so it is time to try something new. Putting the egg in the center of the patty and cooking them together will give you a soft egg-white and an oozing yolk. By cooking the egg in this way you will get it in every single bite.
Bacon and Guacamole
Adding an extra layer of wrapping to the hamburger is perfect for elevating the flavor. Wrapping the patty in crispy bacon strips and stuffing fresh guacamole in between is su
re to create an extraordinary burger. You will be able to enjoy the crunch of the bacon and oozing fresh guacamole with every bite.
Throw in Some Teriyaki
The best thing about hamburgers is that offers a lot of flexibility for innovation as no ingredient is off-limit. The Teriyaki sauce is a tasty choice. Slathering the patty with the sauce will instantly take it from boring to mouthwatering. You can combine the sauce with other condiments like garlic, Roquefort cheese, scallions, Japanese cucumbers, or creamy Brie.
Australian-style, Beer Spiked Hamburger
Australians are known to love rowdy food so it is no surprise that they have a rowdy version of a hamburger. Their recipe infuses the classic meat patty with your favorite beer. Top the beer-infused meat patty with ingredients of your choice like caramelized pineapple, onion rings, bacon, beetroot, sunny-side cooked egg, and cheese.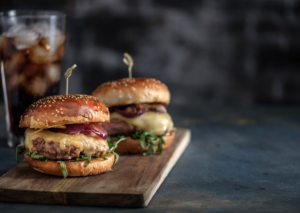 Go for Goat Cheese
American processed cheese is delicious and it melts beautifully but it is not the only cheese option. For a change, you should choose crumbly goat cheese. The texture is different but it is a delicious addition. To elevate the taste even further you should also put some pesto on the buns as it will complement the other flavors.
Add Caprese Salad
Topping off the burger with Caprese salad will allow you to enjoy the deliciousness of the classic burger with a taste of the salad. A hamburger stacked with fresh tomatoes, artichoke pesto sauce, balsamic glaze, romaine lettuce, fresh basil, and beef patty spiked with red wine is a perfect compromise between a burger and a salad as you get to enjoy a complete yummy meal.
A Scrumptious Greek Burger
The classic American version is great but if you ever want a refreshing change you should swap the American flavors for tasty Mediterranean flavors. Add ingredients like sun-dried tomatoes, pine nuts, feta, garlic, homemade Tzatziki sauce, and arugula. A big fat Greek burger is highly delicious and fulfilling.
Hamburger with a Southern Twist
Adding different regional specialties to the classic burger can put a unique twist and give a flavorsome result. The fried green tomatoes are a distinct southern food. They add sweetness and crunch to the burgers. They turn plain hamburgers into crunchy and sweet burgers.
Spice Up With Chorizo
If are a fan of spicy burgers, add a little bit of fresh chorizo to the mixture of the patty. Chorizo adds extra flavor and zing to the burger. Adding some shredded cheddar along with chorizo is perfect for creating a juicy and meaty base. Top it up with only classic garnishes and you will have a delicious burger.
Final Thoughts
These are just some yummy ideas to upgrade the classic hamburger. But remember there is no limit to the innovations you can make to the popular hamburger to make it extra delightful.