It is no secret that Portugal is one of the most beautiful and amazing countries in the world, with a well-known tourism demand and development.
They have decided to double down on that demand and receive another world record, this time for the longest pedestrian suspension bridge in the world. Its name is 516 Arouca, the pun being that it is 516 metres long. It is in the Arouca Geopark and it is suspended 175 metres above the river. Yes, you have read it correctly, 175 metres above the ground!
A modern landmark
If you are a nature lover, Arouca has always been a great place to visit. It has amazing walking trails, breathtaking views and gorgeous hills that you can venture through. On top of that, you can find one the most beautiful sceneries available in Portugal in Passadiços do Paiva, a walking trail or pathway made of wood that crosses through the valley and the river.
However, the municipality of Arouca thought they could offer even more, and they did. In a partnership with the Institute for Research and Technological Development for Construction, Energy, Environment and Sustainability, they built a suspension bridge that is not for the faint-hearted.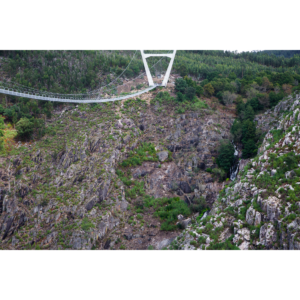 As the Mayor of Arouca stated, this bridge will remain a landmark of modernity and will be part of the long list of iconic structures available in Portugal. And it will be an insane boost to the region's tourism development.
Availability
Authorities have stated that the longest suspension bridge in the world will be available every single day of the year, except for Christmas Day. If you are wondering when you should visit it, well, just take your pick! It is always open.
It is worth mentioning that the crossing is not free. At the moment of this post, they are charging 12€ per adult and 10€ for children and people over 65 years. Considering the experience that Arouca is offering, this seems to be a no brainer. But wait, there is more!
In addition to the bridge, these tickets also give you access to the Passadiços do Paiva! You can make a whole day out of it and enjoy a 2 for 1 experience.
The first person to make the crossing
It is hard to imagine being the first one to "test" the bridge, but Hugo Xavier, after a big pep talk and courage mustering session, took the leap!
As he says, he was super afraid to venture into the bridge, but after the initial step, the crossing was totally worth it. "An extraordinary, unique experience and a huge adrenaline rush", he mentioned to the newspaper.
Other crossers second Hugo's feelings. However, there are others, probably like me, that are scared senseless by heights, but even those recommend the experience. Rui Brandão, for example, made the crossing and never looked down! But he still recommends the experience for people like us that can't handle heights or experience vertigo.
You may wonder why people afraid of heights feel so comfortable crossing this bridge, a valid concern. Even though the bridge is suspended 175 metres above the river, the construction, architecture, planning and materials are all top-notch. My afraid of heights only triggers when I don't feel safe, so I can imagine I would be fine crossing 516 Arouca, which I will sometime this year!
Final thoughts
The longest pedestrian suspension bridge is one of many of Portugal's investments to recover its economic growth and assure its place as one of the most beautiful countries to visit.
If you are looking for an adventure and a great story to share with your family and friends, make sure to not miss out on 516 Arouca's natural beauty and imposing structure.