Following in the footsteps of a parent or a sibling is the most natural career choice for some, although the choice does come with a lot of pressure.
There are many known dynasties in motorsport. Some families have experienced exceptional success while others have not been too lucky and have struggled because of high expectations.
Greatest Motor Racing Dynasties
Here are some of the greatest dynasties that have graced the motor racing sport over the years.
Andretti
Andretti's family is considered the royalty of USA motorsport. Mario is without any doubt the king and his son the Prince Regent. They managed to win five Indycar titles along with one Formula.
One world championship between the late sixties to 2007. The duo also got up on the Le Mans podium in 1983 while sharing the Porsche 962. In 1988 they came in sixth in the Le Mans and this time Michael's brother and another Indycar driver Jeff was part of the team as well.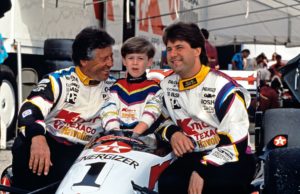 In the beginning, Mario also raced against his twin brother Aldo. Aldo's sons also joined the family business and won in Indycar, sports cars, and NASCAR.
The third generation of Andrettis' is also part of the sports. Marco, Michael's son has won two times and also racked up twenty podiums in Indycar since debuting in 2006. Jarett, John's son is pursuing a motor racing career in the IMSA sportscar series.
Brabham
In 1955 Jack Brabham moved from Australia to the UK and laid the foundation of a motor racing dynasty that is still alive. Jack enjoyed a lot of success.
He won the F1 title three times. His biggest achievement is that he secured the championship while driving a car that was made by his team and had his name written on it.
Jack has three sons. Geoff focused on America and competed in Indy Cars and won four consecutive IMSA GT sports car titles with Nissan from1988-1991.
Younger brother Gary won the British F3000 champ in 1898. He also won Sebring 12 hours. The youngest David also made a name by winning Le Mans in 2009 with Peugeot and also won three British F3 titles.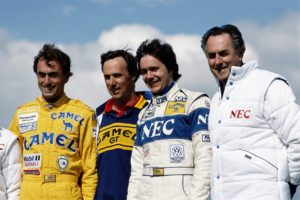 The legacy of the Brabham family continued with Mathew, Geoff's son is also a two-time stadium track champion. David's son Sam also participated in the British Porsche Carrera Cup.
Earnhardt
Earnhardt's are a part of NASCAR and they are the first motorsport family that spanned four generations. Their legacy began with Ralph Earnhardt who started racing in 1949. He won 350 races across different classes in two decades.
Dale followed in Ralph's footsteps and he was a real superstar. He was known as 'The Intimidator'. He racked up seven NASCAR tiles and 76 wins before he died in a car crash at Daytona 500 in 2001. His legacy was carried on by sons Kerry and Dale Jr.
Dale Jr. won 26 NASCAR races starting in 1999. Their sister Kelley was also a racer and only gave up racing to run the NASCAR squad which she co-owned with Dale Jr.
Kerry's sons Jeffery and Bobby are the fourth generation of Earnhardt's. They race in NASCAR although their career has been less successful than their grandfather's.
McRae
Scotland is home to the most famous motorsport rallying clans. The legacy began with Jimmy who started rallying in his 30s and it was just a hobby. He was pretty good at it and during his career, he won five British Rally Championship titles. He also won some WRC podiums.
His eldest son Colin won the world title in 1995and had 25 WRC victories. He was dubbed as the fastest rally car driver. His younger son Alister managed to win the British crown in 1995.
His career was not as successful as it could have been but his son carried forward his legacy. The 16-year old is has made an impressive start in motor racing.