Portugal is a small country but it offers a surprisingly huge heritage and culture. From its people to monuments, beaches, landscapes and even world-class golf courses.
Tourism is the largest economic sector in Portugal. Needless to say, it is one of the most desired destinations in Europe. UNESCO has recognized several of its monuments and buildings as World Heritage Sites. Braga, which is one of the biggest Portuguese cities, has won the award Best European Destination for 2021.
It is impossible to miss in this beautiful country. Let's take a look at ten places that you absolutely have to visit in Portugal!
Lisbon
The capital of Portugal, one the most beautiful cities in the world. You can venture in the Age of Discovery with monuments like Mosteiro dos Jerónimos and Torre de Belém. If you are looking for a more modern experience, then Parque das Nações is what you want or the breathtaking Oceanário. Also, if you want to party, Lisbon's nightlife is one of the best in Europe.
Oporto
If you a wine aficionado, you are going to love Porto (or Oporto). Port Wine (vinho do Porto) is the most well-known Portuguese product around the world. For people that have never visited Portugal, the only thing they probably know about it is the Port Wine.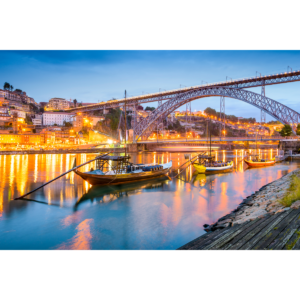 The 2nd largest city in Portugal is right next to a waterfront, known as Ribeira, a World Heritage Site. You will find gorgeous architecture and monuments, such as the Torre dos Clérigos or the Sé, Porto's cathedral.
Sintra
One of the most historical cities in Portugal, again recognized by UNESCO. If you enjoy palaces, castles and places with lots of history, then Sintra is a really safe bet. You will be able to check out the Palácio Nacional, Castelo de Mouros or the Palácio da Pena.
Óbidos
Did you know that this city was a wedding gift from the king to his queen? The bar was set pretty high there!
Óbidos is a city enclosed by medieval walls. It is full of museums, picturesque taverns, and a beautiful square with medieval attractions. It's a dream for artists, full of culture and performances. And, to top it all off, you can walk around the walls of the castle and enjoy the scenery around the city.
Don't forget to try the "Ginja de Óbidos", a sweet beverage with alcohol.
Évora
One of the most beautiful medieval towns in the world. If you go to Évora, you really can't go in a hurry. The monuments there are really well preserved and it feels like a journey to the past. One of the most horrifying and beautiful historical places that you really have to visit is the Capela dos Ossos. Truly chilling! And the Templo Romano is simply beautiful.
Coimbra
The university's city is reason enough to plan a trip to this historical city. One of the oldest universities in the world, and they offer full tours to tourists. Their library, Biblioteca Joanina, is something out of this world, a Baroque beauty. Other must visit places include Portugal dos Pequenitos, Se Velha and Igreja de Santa Cruz.
Parque Natural da Serra da Estrela
This nature park offers the highest peaks on mainland Portugal, the only place where it is possible to casually snowboard.
The landscapes are breathtaking, full of trails available for tourists. This is where you can buy the best cheese in all of mainland Portugal.
Guimarães
Another city full of medieval history, the former capital of Portugal. The whole city is perfectly built to offer a pleasant experience for tourists. You have to visit the castle, the Alberto Sampaio Museum, the royal castle Paço dos Duques and more.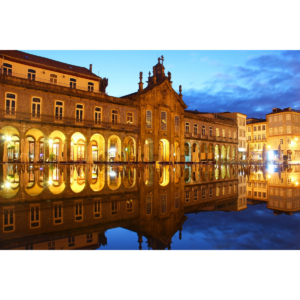 Braga
Recently recognized as the Best European Destination 2021, Braga is full of imposing churches, beautiful museums, and gorgeous landscapes with amazing scenic viewpoints. Braga's cathedral, the Sé, draws a huge number of visitors all year round. Bom Jesus offers a wide view of the entire city and is accompanied by a beautiful church and park. And we can't forget to mention one of the most beautiful European churches, the Sameiro.
Parque Nacional da Peneda-Gerês
The only national park in Portugal is near Braga and it is jaw-dropper. If you love nature, then you really have to visit this place. It is full of small villages around the mountain, with several hiking places, rivers.
You might have to be a bit careful if you journey into more remote places since you may find wolves and wild boars.
Final thoughts
Hope you have enjoyed this top 10 list. Since Portugal is such a small country, you can even plan to visit several places on this list during your vacation. For example, Braga, Guimarães and Gerês are very close to each other. And if you are worried about the cuisine, don't be. Portugal has one of the cuisines around the world.