According to surveys, a lot of Indian travelers want to spend the holidays at a place where they have visited before because of familiarity.
The lockdown restrictions have finally relaxed in most parts of the world. Traveling within your country has started in some places, and a lot of people have been taking trips to different destinations within the country.
Booking.com, a popular travel company, conducted a survey, and they found out that about 49% of the population plan to visit their families and friends in India.
But what are the places Indian travelers love to visit? Here are some popular destinations in India among travelers.
Agra
Agra is the most popular place to visit in India because of the Taj Mahal. Millions of tourists from all over the world visit Agra every year just to see this magnificent monument. When visiting the Taj Mahal, tourists tend to wake up really early to witness the beautiful mausoleum at sunrise.
Aside from the Taj Mahal, you can also visit another World Heritage Site called Agra Fort. There are also other tombs and mausoleum you can check out in Uttar Pradesh, the Akbar's Mausoleum, and Itimad-ud Daulah's Tomb.
New Delhi
It may seem that New Delhi is a little chaotic with its large crowd, it this city is still a popular spot for tourists. India's colorful capital is a perfect combination of modernity and heritage.
You could do a lot of things in this city. You can enjoy the cultural and spiritual experience. You can also shop or dine in high-end restaurants this city offers.
Mumbai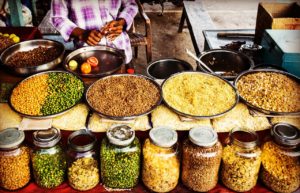 Mumbai is a coastal city in India where you can see the cosmopolitan side of the country. This is the place where Bollywood Actors reside. There is a lot of gourmet restaurants you can try in this city and a lot of five-star hotels to stay in.
But if your budget is limited, you could still feel like the rich by taking a stroll down Marine Drive, where you can see elegant Art Deco buildings.
Rajasthan
The third leg of the Golden Triangle Tourist Circuit, Jaipur, is one of the best places to stop by in Rajasthan. It is also known as the Paris of India. Jaipur is famous for its pink buildings, jewelry stores, and lavish City Palace.
Varanasi
Some people consider Varanasi as the holiest place in India. You can see pilgrims take a bath, and you can also find mourners cremate their deceased loved ones in the Ganges River.
But most tourists take the sunrise boat ride along the Ganges River, where they can offer floral blessings that they intend to float on the river.
But away from the river, the outskirts of the old town are like a maze. According to the legends, you still can't find an accurate Varanasi map.
Amritsar
Another holy city in India, Amritsar, is dubbed as the Jewel of Punjab because of its Golden Temple.
You can also find the world's biggest community kitchen here that can serve up to a hundred thousand diners with curry and lentils every day.
If you plan to visit Amritsar, you might also want to spend your afternoon watching the Beating Retreat Ceremony at Pakistan's border.
Goa
While India is popular for its holy cities and spiritual experiences, you can also take a beach trip. You can enjoy the Arabian sea with its golden sands in Goa.
You can experience the fusion of Portuguese and Indian culture here.
Kolkata
Kolkata is the third-largest city in India. You can see the beautiful architecture from the colonial era here. One of the most popular places to visit here is the Victoria Memorial, a monument made from marbles with many galleries.