No matter how much you love going to new places, sometimes, you would still find yourself exploring familiar destinations like your home state.
Revisiting your home state is a nice experience. It could also give you a strong feeling of nostalgia. Especially if your favorite place during your childhood is no longer there.
So what are the places that I miss in Massachusetts? Here are some of the best places to visit in my home town.
Plum Island
This island is perfect for nature lovers. Bird watchers would surely enjoy seeing the migrating birds and the breeding of the shorebirds.
There are a lot of public beaches. Fishing, whether from the shore or on a boat, is also great.
The Berkshires
Berkshires is a hilly area in the western part of Massachusetts. It is filled with hiking trails, including parts of the popular Appalachian Trail.
You could also find the highest waterfall in Massachusetts in the Berkshires. But if you are not a fan of hiking, you could also visit the Norman Rockwell Museum or watch at the Tanglewood Music Center.
Northampton
Another charming college town located in the Pioneer Valley is Northampton. It has vibrant and picturesque downtown that has many different art galleries, restaurants, and places where you can watch performing arts. In addition, this town is home to the prestigious women's college, Smith College.
Nantucket
Nantucket is one of the most popular tourist destinations. You can enjoy the quiet harbors, sandy beaches, lighthouses, beautiful old gardens and mansions, and sandy beaches here. This island is also popular with writers and artists for the annual summer music festival.
Boston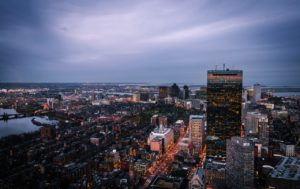 Boston is rich in history. It is one of the oldest cities in America, which was founded in 1630. Tourists can relive the participation of Boston in the American Revolution by taking the Freedom Trail.
Boston is perfect for all ages, too. Children can enjoy an aquarium with dolphins and seals. You can also find an exceptional science museum. There are also swan boats to ride and a public wading pool.
Martha's Vineyard
Martha's vineyard is a popular destination for the rich and the celebrities. This island has great beaches that are perfect for surfing or swimming. In addition, it has a great view of the Atlantic cliffs. You could also find notable lighthouses here like the one in Edgartown.
Salem
Another popular place to visit in Massachusetts, especially for those who aren't afraid of goblins or ghosts, is Salem. It is a great place to visit at Halloween. Salem is the home of witchcraft trials in the days when this town was ruled by Puritans. Different haunted happenings took place all over Salem back then. Still, suppose you are really curious about these things. In that case, you can learn about witches at a special museum devoted to witches.
Cape Cod
Cape Cod is located in the eastern part of Massachusetts. It has become one of the most popular places in Massachusetts to visit during the summer. Cranberry bogs, swimming beaches, and lighthouses can be found in the Cape Cod National Seashore.
New Bedford
The 6th largest city in Massachusetts is Bedford. It is also known as the whaling city because it was one of the most important ports for whaling in the whole world during the 1900s. The largest whaling museum, called The New Bedford Whaling Museum, is also located here.
Cambridge
Even though Cambridge is part of Boston's metropolitan area, it is still a separate city. Harvard, the popular and the country's oldest institution of higher education, can be found here.
You can also visit the 150-acre campus of the Massachusetts Institute of Technology or MIT here. It has an open-air art gallery with sculptures by different artists like Henry Moore, Alexander Calder, Jacques Lipchitz, Auguste Rodin, and even Pablo Picasso.