Buying a car is a big investment so a lot of consideration goes into choosing one. There are plenty of options available and to buy the best one it is essential to focus on what you want in a car.
An SUV is a worthy investment because it is a beautiful car with a lot of great features. The first step to buying the perfect SUV is to understand it.
How Is An SUV Defined?
A Sports utility vehicle or an SUV is defined by its unique features like the tall roof, high ride height, cargo area that opens to the cabin, and elevated seating position. SUV has evolved a lot over the years. Originally they were designed to be more utilitarian and rugged than cars. The latest models are more car-like and compact, which has increased the everyday appeal of these cars.
5 Key Things To Look For
Here are the key things to look for while buying an SUV:
Drivability
Visibility
Cabin comfort
Parking
Storage Solutions
Types Of SUV
Here are some types of SUVs to choose from: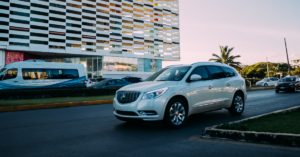 Subcompact SUV
The subcompact SUV cars have all the benefits of a small car and much more. Here are some unique features these cars offer:
It offers more practicality and has an appealing design.
They have small engines and proportions
The entry-level SUVs offer good fuel economy
Maneuvering of these cars is easy
They are versatile and offer more cargo areas as compared to equivalent cars
Subcompact SUVs are designed specifically for an urban environment
Some examples of subcompact SUVs are Toyota C-HR, Hyundai Venue, Jeep Renegade, etc.
Compact SUV
The compact SUV can give a well-rounded experience to the owners. Here is what they have to offer:
They are spacious and have a more generous cargo space
It is not too large so it is not tough to park or handle
It is designed for everyday urban use but some compact SUVs are equipped with off-road capabilities.
Some popular compact SUVs are Ford Escape, Honda CR-V, Sabaru Forester, etc.
Midsize SUV
Here are some great things a midsize SUV has to offer:
These cars offer excellent passenger space without compromising the cargo capacity
Some of the midsize SUVs are equipped with large and powerful engines which improve their towing capability and acceleration
The larger engines do increase the fuel economy along with the performance.
Some examples of midsize SUVs are Honda passport, jeep Grand Cherokee, Nissan Murano, etc.
3-Row SUV
Some great features of the 3-Row SUV are:
It is one of the largest SUVs and can accommodate a lot of people.
The car has a generous storage capacity as well
These cars have a great capacity to haul cargo or tow as it is built with body-on-frame construction
They are really big which makes it challenging for city parking spaces and streets
Some known 3-Row SUVs are Toyota Sequoia, Chevrolet Suburban, Ford Expedition, etc.
Subcompact Luxury SUV
These cars are a luxurious investment and here are great things they have to offer:
Upscale features at a reasonable and approachable price
They offer more interior volume and cargo space than comparable cars
It is easy to park
Some examples are Volvo C40, Audi Q3, Lexus UX, etc.
Compact Luxury SUV
These SUVs are perfect for a luxurious experience because:
They are filled with features that offer a true premium experience
It has performance, comfort, and design
Some of the great compact luxuries SUVs in the market are Acura RDX, Volvo XC60, Mercedes-Benz GLC-Class, etc.
Why Buy An SUV?
An SUV is a perfect choice for those who are looking for versatility and space. They are excellent at coping well with different types of tracks, uneven surfaces, and road conditions. Investing in an SUV means that you have the luxury of being able to go almost anywhere and enjoy your drives.