Owning decent vehicle recovery equipment no matter where you is necessary as owning a good set of wheels. In a lot of different cases, you cannot go quite far in a wheel if you do not have either. Having an essential recovery kit is important for remote travel or off-roading. It does not matter whether you would be slaying sand or pounding different terrains in your four-wheel drive. Packing your very own non-winch recovery tool and kit will surely help you or even others to keep yourself safe when a car recovery is necessary.
There is a lot of points to consider when preparing a non-winch recovery kit.
Shovel for Off-Road
Accompanying a great set of good-quality gloves, keeping a good shovel while traveling is essential. We have all witnessed it happen before; a car gets stranded, and a handy shovel is nowhere to be found. In addition, using your own hands can be difficult when you get stuck in slush snow or soft sand.
Other o to consider when buying an off-road shovel:
1. Pick the right material that will fill your demands.
2. Know the optimal grip length.
A good shovel can assist your car when it gets stuck, and it can also set campfires out no matter what type you buy.
Traction and Recovery Boards
Recovery and traction boards can be essential to take yourself out of stuck conditions. If your vehicle lacks a winch, recovery boards could be a great addition to your recovery kit.
Traction boards are simple to handle, but these tips can help your traction boards in good shape:
1. Always plan your getaway path.
2. Dig yourself out.
3. When placing each traction board, make it even as you can on the surface.
4. Accelerate on the traction boards slowly
No matter how deep the snow is, recovery boards could help you free your tires. 
Soft or Metal Shackles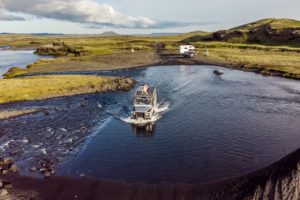 Having two shackles or more in your non-winch recovery kit is very important. Shackles are used for securing recovery leashes to cars. This is why shackles play a vital role in rigging and triumphant rescues.
Shackles can be made from synthetic rope or metal. They also come in different sizes and kinds. Depending on their shape, metallic shackles are called the bow, D-shackles, or screw-pin. Soft shackles are artificial cord with a loop on the edge, and a knot on the opposite loop to make sure that the loop is fully secured.
How to connect recovery point and strap together:
1. Lift the pin
2. Connect the pin to the return position
3. Add the recovery leash loop end in the shackle.
4. Twist the clip back inside.
Pro tip: Never over-tighten metal shackles to make sure that the clip will be free after recovery. 
How to use soft shackles:
1. Add the end of the recovery leash to the soft shackle
2. Push the knot of the shackle through the tip of the loop to make a secure shackle.
There are disadvantages and advantages to both shackle types. Soft shackles are lighter when it comes to weight, but they can also wear out over time. While metal shackles tend to be bigger, however, they also much more long-lasting.
Kinetic Recovery Straps
Often called snatch straps, kinetic recovery leashes are used to help pull another vehicle out of a stuck condition. 
How to use kinetic straps for car-to-car recoveries:
1. Hook the recovery strap end to a recovery position of another wheel using an individual shackle.
2. Hook another end of the strap to the recovery point of the vehicle that will do the pulling using the second shackle. 
3. Once the car starts driving forward, the slack on the leash will take up, and power will release to the stranded car.