Traveling involves putting yourself to test, getting out of your comfort zone and immersing yourself in a different culture– that is mostly completely different from your own. If you plan to move and stick together with other foreigners while eating fries and burgers on your next vacation, you are actually missing out. Here are tips on how to beat the fear of unknown and rock your next city vacation like a local;
1. Know your destination, Research
This point is quite straightforward. Before traveling to a new city, it is indispensable to carry out research on things such as landmarks, top attractions, and popular restaurants. Research will not only help you be on top of what a city has to offer but will also help you avoid spots that may be packed with visiting foreigners for better, less jammed spots
2. Get out and get lost
There is no doubt that the thought of being alone in an unknown destination may bring a lot of anxiety. However, you can easily overcome this uneasiness by tossing off the tourist tag and enjoying your new destination just as if you have lived there your whole life. For a memorable travel, consider even venturing beyond the city to the suburbs where you can experience diverse traditions, lifestyles, and perspectives.
3. Try local dishes
Tourists often get intimidated by local dishes, but if you can try a local dish and hate it, you will at least have something to tell your friends back home. You can ask random strangers about their favorite dishes, restaurants, and market stalls- then check them out. Local cuisines are typically much cheaper but usually still surpass the western cuisines available.
4. Take the public transport
If you are planning to use the mass-tourist-transit on your next vacation, you could miss out on a lot of thrill. Be sure to find out the best local means of transport for locals, be it motorbikes, maxi-taxi, sub-ways, auto-rickshaw, or even by foot. While it may look convenient to move around in a rented car, public transport is a great way to get a feel of how people go about their daily lives. Traveling with locals also helps you avoid dealing with hawkers or scammers posing as tour guides.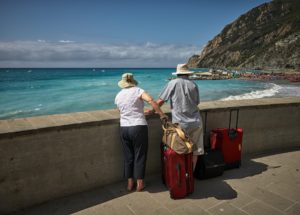 5. Hang out in the park
Restaurants and bars are among some of the greatest places to hang out when in a new location. However, if your destination has some popular parks, chances are that you may find more people there and get a chance to learn more about them and the city. Visiting public parks is always also a great way to learn more about conversational tactics and cultural values.
6. Connect with locals
Show interest in people by starting friendships with random strangers. Do not fear asking people about the things that matter to them- be it about their families, food, faith, or even the things they do in their pastime- and be ready to answer similar questions as well. Share interesting things and stories about your home culture. You can even spice things up by using photo illustrations on your phone or camera.
7. Wear local costumes
Undeniably, there is no better way to experience the local culture than trying some local costumes. This is particularly ideal when visiting traditional sites in cities like Korea and Japan where you can wander around in kimono, yukata, or hanbok and even take great shots of yourself in them! You can even visit a cultural costume rental place where you can learn more about the significance of various colors, fabrics, and accessories worn by locals.
Conclusion
With these tips, you will certainly have wonderful experiences to share, new friends from around the globe to connect with, and maybe some recipes to practice when you are back home. Never get intimidated by unfamiliar territory, go local and explore foreign cultures adventurously and with passion.