Who would have thought that you can mix up fun and fear and turn it into a holiday that people celebrate by putting on costumes, carving pumpkins, and hanging skeletons on their porches? That's Halloween for you, and it's my favorite holiday. If you love it too, and you and your partner can't wait to figure out what costume you're going to wear this year, let me help you with some Halloween costume ideas for couples.
1. Angel and Devil
Okay, so this is an obvious one, but when you're searching for ideas, you sometimes neglect to think about the easiest solution. Angel and Devil costumes are not that hard to make if you don't want to order them online, and it can go either way. It's always a great choice to switch gender rules. While we might expect a woman to be an angel and a man to be the devil, why not make it the other way around? You can apply this to any costumes for couples, and seeing a straight man in a dress can always amuse the other guests at the party. You can also try going as the cop and the prisoner or a doctor and a nurse.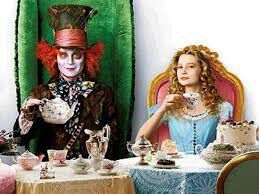 2. Alise and the Mad Hatter
My hubby and I chose Alise and the Mad Hatter last year, and it was honestly the only time I looked pretty normal. All you need for an Alise costume is a blue dress, white nylons, and a white apron. If your hair is not blond, put on a blond wig, make a bow on it, and there you go. The Mad Hatter is a bit of a challenge though, but don't forget that, just because you're using cartoon Alise doesn't mean you can't use the Mad Hatter from the movie. Go nuts and mix things out, it will look awesome, trust me.
3. Peter Pan and Thinkerbell
Another cartoon-inspired costume comes to us from Neverland. For men who want to stay young forever and women who would cease to exist if others wouldn't believe in them, Peter Pan and Thinkerbell couple costume is a perfect choice. Cartoons aren't just for kids, especially the classic ones that generations grew up watching. If your partner is a lot taller than you it will just make the costume look better!
4. Joker and Harley Queen
Just to warn you, ever since The Suicide Squad, everyone was Joker and Harley Queen. I think the dust has settled a little now, so you shouldn't be at risk of showing up at a party just to see twenty Jokers and Harleys. Due to the movie Joker, this character is still popular, but The Birds Of Prey didn't get that much success so there should be less Harleys than Jokers. This has turned into one of the most popular Halloween costume ideas for couples.
5. Salt and Pepper
Maybe you're not big on dressing up as existing characters, so you're looking for something very simple yet quite unique. Why not go as salt and pepper? They come in pairs and you can't really have one without the other. Ham and eggs are also one of the good Halloween costume ideas for couples if you're into costumes like these but let's look at something more gothic that would capture the spirit of Halloween.
6. Morticia and Gomez Adams
Remember those finger-snaps that introduce you to a strange family in a normal neighborhood? Well, it's not up to us to judge what's strange and what's normal, but The Adams Family surely fits into the Halloween theme. I think this was the best costume my hubby and I wore, and using my make-up to draw that silly mustache on him was so much fun!
7. Sheldon and Amy
Are you a fan of The Big Bang Theory? Well, costumes don't have to look scary, they can look nerdy. Sheldon and Amy are the nerds we love most, and the costume is super easy to make. All Sheldon really needs is that Flash T-shirt over long sleeves. The better half of the couple just needs to dress like a grandma, and there you have it – the popular nerdy TV show couple.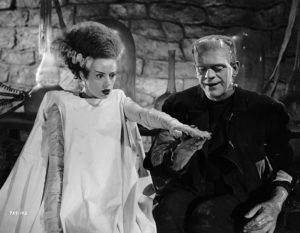 8. Frankenstein and his bride
Halloween is supposed to be scary right? Well, why not go as Frankenstein and his bride? If your partner doesn't mind having green skin, you might even go all the way and be Avatars. Frankenstein and his bride are a classic choice horror fans stick to though.
9. Little Red Robinhood and The Big Bad Wolf
Back to cartoons, Little Red Robinhood and the Big Bad Wolf is one of the great Halloween costume ideas for couples. Even though it can be a little challenging to make this costume, you can make it really simple too, and people will get who you're supposed to be.
10. Corpse Bride and Victor
Talking about Halloween and cartoons can't go without Tim Burton and the legendary Corpse Bride. Guys love this costume because they don't really have to put effort into theirs, and girls love wearing wedding dresses. As long as the guy isn't scared of seeing his woman in a wedding dress, this is a win-win situation.
11. Ross and Rachel
Like the TV show characters idea, but you're looking for something more old-school? Don't forget about Ross and Rachel from Friends. Rachel can just put on a Central Park apron, and you can make a T-shirt "We were on a break" for Ross, and everyone will get it. After all, they were on a break.
12. Beetlejuice and Lydia
Halloween-style cartoons don't end with Corpse Bride because Beetlejuice and Lydia didn't start out as a movie. I loved this cartoon when I was a kid, so I'm hoping to somehow make this costume instead of buying it. Wish me luck and order it online if you don't want to go through all that hassle.
13. Beauty and the Beast
If you're up for a challenge, try going as the Beauty and the Beast. The Beauty will have an excuse to wear a beautiful dress, but the Best might need to order something online if you don't want to improvise it and make the costume your own.
14. Pirate and a parrot
One more great TV show How I Met Your Mother brought us the idea of a pirate and a parrot that Lilly and Marshall wore for a competition in a Halloween episode. I'm sure that you'll win any Halloween costume contest with this idea, but if you don't like it, choose any of the 14 Halloween costume ideas for couples or let them inspire you to come up with something on your own.
Most importantly, have fun and enjoy the spookiness!