The workspace doesn't have to be depressing and full of clutter. It can be your oasis of peace where you can focus on what you do best – your work. Let these office decoration tips for your workspace help you get comfortable and enjoy your work more.
1. Plan what you're going to do before doing anything else
Maybe even the most important one of all the office decoration tips for your workspace is to make a plan regarding what you're going to do. If you need to accommodate two or more desks, you need to think strategically. Maybe you want to put them close together or go for more privacy and separate them or put them in different corners.
The most important thing you need to do is think about what your business needs. Maybe you need enough space to store products or a quiet place where you can take calls. Perhaps you will need to occasionally accommodate a guest in your office. Would it be possible to have a nice view? These are all things you need to consider.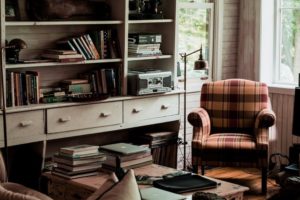 If you need a lot of storage space, you might want to take full advantage of the walls. It can be covered with shelves, and you can even have a storage space that covers the walls from the floor to the ceiling. Keep in mind that this space will need to look tidy and organized, so it should be easy to maintain. A ladder could help with this and add a unique touch to the design. Maybe you instead need a lot of desks, so you might want to turn your halfway into a working station.
If people are going to come to your office, you'll need comfortable chairs and other cozy furniture that you can decorate with pillows and blankets. Having an area for coffee with displayed healthy snacks or fruits will just keep those guests, clients, or customers coming again.
2. Declutter the working space, make it cozy and personalize it
The visual clutter needs to be brought to a minimum. You want your workspace to look elegant, professional, and clean, and you also want to be able to make efficient use of it. Some people go for the entirely minimalistic style, but I'm a fan of cozy personalized spaces, which doesn't have to mean that there needs to be clutter.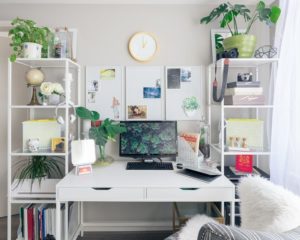 If you have any collections you can put them on display, just make sure that they are all in one place. Putting them around the entire office might look strange. After all, you also need some space for decorative items. Anything that's important to you might make your workspace homier. Maybe you can frame your kid's drawing, put a family picture, your favorite cup with a pick-me-up slogan written on it, or simply some scented candles. Personalize your office and let your employers personalize their desks.
You also shouldn't hesitate to make an office cozier by adding blankets, plants and including comfy furniture. A loungy area with a comfy sofa near your desk helps you switch from a business atmosphere to a homey place for a relaxing break. You can personalize your workspace even more by implementing your hobby into your design plan through art, patterns, colors, and a few objects, which is also one of the office decoration tips for your workspace.
3. Bring life into your surrounding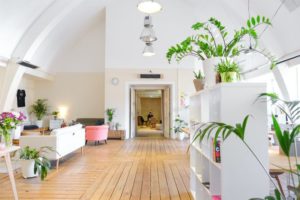 While there are some office spaces that seem cold and sterile, there are those that seem full of life. Adding life to your surrounding is best done by decorating the office with plants. They help you feel like you're still connected to the world outside of the office and contribute to the relaxing vibe of the space. In addition, they can add color and make space seem brighter.
Speaking of brightness, you should definitely think about selecting the right lights. Bluish-white or plain white light is a much better choice than the yellow one and including the possibility to dim the lights is always a great choice.
You can also add oversized wallpaper whether it's a floral print or anything other related to nature. Instead, you can just use a large painting, maybe the one that shows the rush of the city or the peace of nature depending on what kind of look you had in mind. I'm also a big fan of putting aquariums in offices, although if it was up to me offices would have company pets.
4. Let your workplace motivate you to be more productive
Back to reality, you do need to remember that this is the place for business and keep yourself motivated to work. Think about the colors you want for your office and find the ones that stimulate you. Blue, green and yellow are always great choices, but you can choose any color you want as long as you incorporate it well into the design. When I'm talking about the color I do not mean just walls and furniture. For instance, if your favorite color is red, you can incorporate little red details all around the place.
Don't forget about your other senses though, because your workspace should smell as great as it looks. Citrusy scents are good for feeling less stressed, and they have an uplifting effect while peppermint smells refreshing and energizing.
Keep yourself motivated with motivational messages as well. One of the great office decoration tips for your workspace is also using a whiteboard, or even better, a chalkboard. It will look great plus give you a place to write your to-do list or hold a presentation. Make a vision board too, and customize the wallpaper on your computer so that it has a motivating effect on you.
5. Add the finishing touches
Office decoration tips for your workplace can't go without a simple message – add books and magazines related to your line of work. You can have a bookshelf for your books and place the magazines on a coffee table.
One great tip that you also can't neglect is something that many forget about. You need trash cans in your office, and they can ruin the look, so make sure to chose stylish ones.
Frame the pictures of you and your employees and add the finishing touches by putting some vases across the office and adding flowers as the final touch. If you don't want to go through the trouble of constantly buying fresh flowers you can choose fake ones.
Now all that's left is to learn 5 habits of successful people that will help you get more work done and start working in an environment where you feel most comfortable!