Hyundai has been producing quality vehicles since the 1960s. They are a popular manufacturer, selling their cars around the world. Their award winning designs have gotten them to top three status in the industry for vehicle quality. They have lots of cool features for drivers to enjoy. The comfort and safety features make the Hyundai a great value.
Driver Alerts– The Hyundai has special features to keep the driver alert and has special sensors to detect objects and vehicles that get too close to help avoid accidents and costly damages. Features like 'Heads Up Display' which puts all of the data you might need to look at into a transparent display at eye level. It keeps your eyes on the road instead of the dashboard. Smart Cruise Control is an advanced driver assistance system that adjust the vehicle speed automatically to maintain the proper distance from vehicles ahead of you.
Wireless Charging Pad
Hyundai doesn't want you to have to struggle with cords and adapters to charge your phones and devices. They offer a wireless charging pad to lay your phone on. You won't have to use a bulky adapter and cord to plug it in. just lay it on the charging pad and your phone will simply charge as you drive.
Fuel Efficiency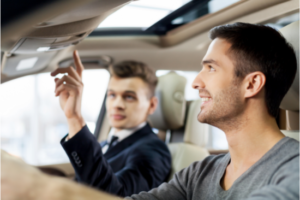 The Hyundai has so innovative and highly fuel efficient models. Their hybrid models will get up to 46 miles per gallon. The 2018 Hyundai Elantra model gets up to 4o miles per gallon . These vehicles are extremely fuel efficient. Their electric and hybrid models have even better efficiency. The Hyundai Ionic Plug-in Hybrid model has a 124 mile all electric range.  Their Ionic Hybrid gets up to 58 miles per gallon.
Value
From mid range to luxury features, their 2021 Hyundai Tucson is priced between $24,885-$33,235. Their vehicles are packed with value with their five year/60,000 miles warranty and complimentary scheduled maintenance.
Style
Hyundai worked with designers to launch a sustainable fashion line. Designers use discarded automotive materials to create marketable products. They use scrap materials to make unique items like vests, handbags, jewelry, and clothing for this eco-friendly collection.
Comfort
Hyundai vehicles feature keyless entry, power locks and windows, stain resistant upholstery, power and heated seats, customizable temperature controls, all the high tech features you will love. The ultimate levels offer an infotainment system with an 8″ touchscreen and onboard navigation. Hyundai vehicles have well built interior surroundings and easy to use controls. These cars will help keep you entertained and connected. Hyundai vehicles have a hands-free phone system for your convenience. There are USB ports, satellite radio, and offer Android Auto or Apple Car Play.
Safety Features
Hyundai automobiles consistently win awards. They have been recognized by the National Highway Traffic Safety Administration and the Insurance Institute for Highway Safety. There are turn signals built into the mirrors.  Their excellent safety features offer more protection in crash testing situations. The Driver Attention Warning and stability control. The system detects irregular driving patterns and helps keep the driver alert and attentive.
Hyundai offers dual front and rear airbags and daytime running lights. There are child safety locks and headrests are also adjustable. These cars have a remote alarm system to keep thieves away. Hyundai has tire pressure monitoring system to detect leaking air quickly. The 4-wheel anti-lock braking system and traction control definitely make these cars safer.
Resources to Get You In a Hyundai
When you're comparing automobiles, you want something that is comfortable, practical, and safe. You also want to know you won't be spending your whole paycheck on gas money. Hyundai offers excellent comfort and amenities, as well as safety and value. If you need financing options maybe this quick read could help. There are so many great features of Hyundai. Check one out today!