Camping is a perfect activity to get away from the hustle-bustle of city life and connect with nature. Going to the hills and being surrounded by spectacular views is one of the greatest pleasures of life.
Wild camping has gained a lot of popularity because compared to other outdoor activities it is refreshingly simple and peaceful.
The success of your wild camping depends significantly on your knowledge of camping. To have the best camping experience you need excellent organizing, planning and safety skills.
Tips for Best Wild Camping Experience
Here are some key skills you will need to adapt to the nature and have the best wild camping experience.
Acute Planning Skills
Preparation is vital for exploring the outdoors. Here are some preparation tips you must follow:
Firstly, you need to make a decision about the site and make sure you check the legalities related to staying there. You should also be clear about the activities you want to indulge in. If you are going to hike then select a location that allows hiking. The best site would be away from overcrowded campsites but not too far from the route in case of emergency. Check out the terrain of the website so you are familiar with the landscape and you are able to find a beautiful area to pitch your tent.
Once you have a location make a list of the essential you will need. Pack clothes according to the climate and weather forecast.
Organizational Skills
Packing for a camping trip can be complicated as it is easy to over pack. They key is to establish a balance between essentials and traveling light. It is essential to take care of the basics first.
Add a tent, pot, sleeping bag, stove, torch, spoon/fork, dry clothes, rucksack and water bottle. A first aid kit, lighters, spare batteries, insect repellent and water purifiers come in handy in case of emergencies.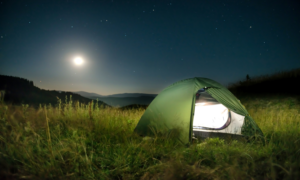 When you are packing food make sure that you have more than enough. Packing the things properly is just as important as packing the right things.
Guidebooks, maps and compass must be in the outer pocket while the inner pockets must be reserved for heavy items.
Make sure you strictly adhere to the camping code of conduct which is pitch late and leave early. Make sure you do not leave anything behind.
Know How To Survive
When you are wild camping you are not going to have access to daily comforts so you need to be mentally and physically prepared to adapt to difficult situations.
You may come across sudden temperature shifts, unknown terrain or erratic weather and if you are not prepared, the camping trip can be a disaster.
There are some common techniques that you must know before your camping trip:
Building a fire
Sourcing and purifying water
Establishing a temporary shelter
Identifying medicinal and edible plants
Using first aid
Work as a team
It is always a good idea to go on camping trip with friends or family. Working as a team will make the trip much more fun and enjoyable.
Everyone can contribute and make sure everything is easily done from pithing tents, finding best hiking trails, cooking dinner etc.
Appreciate unique strengths of all the team members and the wild camping trip will be smooth and anxiety-free.
Conclusion
Travelers are lured to wild camping because it promises experiencing natural beauty and solitude of the site. But there are wild camping rules that must be followed to have a rewarding and safe trip.
The campers must be aware of the rules so that they can preserve the special and gorgeous camping spots for the wildlife and future campers.