There are a lot more than 10 places to visit when you go to Amsterdam, but the most important thing is that you have fun. Different people think different things are fun, but I'm sure you'll find suggestions for exciting new experiences on this list regardless of your preferences. I'm not going to talk to you only about museums though, so keep reading.
1. Wander around Jordaan, the charming, artistic neighborhood
Jordaan is a well-known neighborhood in Amsterdam made of quaint buildings and narrow streets. You'll find many places to visit when you go to Amsterdam if you had to Jordaan because it's full of atmospheric restaurants and bars, antique shops, independent art galleries, and courtyard gardens.
2. Take a bike ride to Sloterplas or Ouderkerk aan de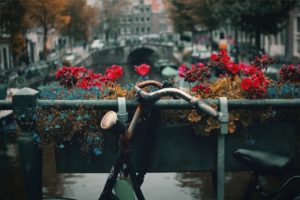 Amstel
As you probably already know, Amsterdam is one of the most cycle-friendly places in the world, and there are more bicycles there than there are people. When looking for places to visit when you go to Amsterdam, why not hop on a bike and cycle there? You can go to the Sloterplas to jump into the sprawling lake or head over to the Ouderkerk aan de Amstel and see the 12th-century village if you're a fan of historic sights because you'll find more of them there.
3. See the beaches of Zandvoort aan Zee and windmills on the Zaanse Schans
You can't go to Amsterdam and go back home without seeing its beautiful beaches and windmills. Historic towns, windmills, and beaches are very close to Amsterdam Central, and you can satisfy your thirst for culture and history in Haarlem. See the golden dunes and sands of Zandvoort aa Zee if you're in the mood for a beach and engage in watersports. As for the windmills, winding canals, and rolling grassland, you'll find them on the beautiful Zaanse Schans.
4. Visit the museums and see the beauty of buildings in Museumplein
If you're interested in culture and history, don't forget to go to the Museumplein where you'll find the Van Gogh Museum, The Royal Concertgebouw, Rijksmuseum and other interesting places to visit when you go to Amsterdam. This is the place for all art lovers, and you'll see open-air exhibitions, a big paddling pool, and markets.
5. Have a beer at the historic brewery in the Oostelijke Eilanden neighborhood
De Gooyer windmill in Oostelijke Eilanden is not just a windmill, because under its sails hides the Brouwerij 't I J, a microbrewery where you can go to the outdoor drinking terrace or spend 30-minutes on a guided tasting tour. You'll taste all the best beers Amsterdam has to offer, but visit other breweries as well because there are many of them in Amsterdam, and what can be better than beer?
6. Feel like Dutch royalty and see the castle in Utrecht
There are a lot of fortresses, palaces, and castles in Amsterdam, so that might be better than beer. Don't you want to feel like Dutch royalty and see the castles such as the ones you watched in Disney movies? Visit The Royal Palace Amsterdam, but don't neglect a 13th-century castle Muiderslot, as well as De Haar Castle in Utrecht.
7. Go to Anne Frank's house
After escaping from persecution in Germany during WW2 diarist Anne Frank lived in a house in Amsterdam with her family. The front of this house is now a museum that's also interesting to see, but head to the back to see the actual place where Anne and many other Jewish families were hiding during this difficult time in world history.
8. Enjoy the Dutch type of pancakes in the Amsterdamse Bos
Amsterdamse Bos is like Central Park, only three times bigger and full of things you can't see back in the states. There's even a Goat Farm in the forest called Ridammerhoeve where you can see horses, cows, pigs, chickens, lambs, and goats and enjoy the delicious goat cheese at its restaurant. If you're after some Dutch-style pancakes instead, go to the Meerzicht Farm and visit the Pancake House. It's a great place to take your kids to because it also has a huge playground. Don't forget to also try herrings while you in Amsterdam, and you just need to find a herring cart to do so.
9. Go shopping to De Negen Straatjes
"The Nine Streets" or De Negen Straatjes is one of the places to visit when you go to Amsterdam if you want to go shopping because it has over 200 retailers. You'll find specialty stores, vintage shops, independent boutiques, and a lot more. If you're after some souvenirs to bring back home head to the Central Station and visit the I Amsterdam Store or to the De Hallen and the Local Goods Store.
10. Go to music concerts and end the tour by looking at Amsterdam from the bird's perspective
Paradiso is actually in a now converted church, and it has hosted stars like the Sex Pistols and The Rolling Stones. Check out the Roode BIoscoop too, which is a former cinema where you can enjoy acoustic music, or go to the basement nightclub De School which was once a school's bike storage. Before leaving Amsterdam, have a cocktail at a stylish rooftop bar and see Amsterdam from the bird's perspective by visiting Panorama Restaurant Madam. That's not all though.
BONUS TIPS: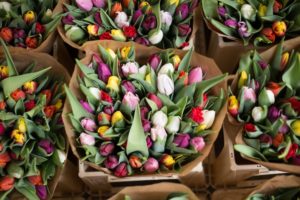 Don't forget to go on a boat ride and enjoy the beautiful sight of Amsterdam's canals. Head to the Westergas if you're looking for bars, art-house cinemas, microbreweries, and a lot more interesting places to visit when you go to Amsterdam.
If you're a fan of movies, see the EXE Filmmuseum and enjoy the sight of a striking white building.
For those of you who always love a good bargain, head over to the IJ-Hallen, and you'll discover a lot of antiques, vintage clothing, records, and home furnishings.
While you're in Amsterdam you also need to stop and smell the tulips, which are the symbol of Dutch culture. You can visit the tulip fields at Bollenstreek or even go to the Tulip Museum.
Enjoy your stay, and make sure to have fun and take pictures to prove it!