Okay, so you want to torture yourself with some beautiful music that could serve you as a soundtrack for your love life that fell apart and left you brokenhearted… And I'm here to help you do that with the best breakup songs to listen to when you miss your ex, but let me tell you something first.
You have to end a relationship to get a chance to be in another one, and the next one might be the one that will last forever.They can't all last forever, and people break up for a reason which isn't going to disappear on its own.
You know all these things though, so let me get right to the list of the best breakup songs to listen to when you miss your ex and leave you to your tears, but please know that you'll soon smile again, and someone will come to wipe those tears away.
Let these amazing artists help you get them all out now, and don't worry, because I added something for everyone, so you'll find a good breakup song regardless of your taste in music or your gender.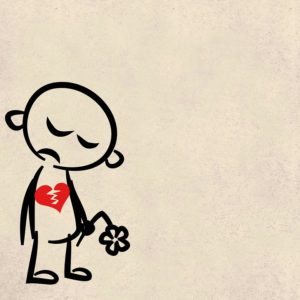 1. Wish You Were Here – Pink Floyd
"How I wish, how I wish you were here. We're just two lost souls swimming in a fishbowl, year after year."
When you miss someone, you just want them to be there even though you know that they won't be. "Wish You Were Here" will get you to turn on the waterworks, and if you're a fan of classic rock, keep going with the song "Here I Go Again" by Whitesnake.
2. Ain't No Sunshine – Bill Withers
"Ain't no sunshine when she's gone, only darkness every day"
I don't know how many times I listened to this incredible work of art. It's not the cry on cue kind of song, it's the blues style that will get you to suffer in silence if that's what you want to do right now.
3. Someone Like You – Adele
"Nevermind, I'll find someone like you, I wish nothing but the best for you too"
Looking for something more modern? Well, you don't need me to tell you to listen to Adele and think about replacing your ex with someone who reminds you of them. Feel free to proceed with "Hello" and get the goosebumps or go for Taylor Swift and reminisce about your ex.
4. When I need you – Rob Stewart
"When I need you, I just close my eyes and I'm with you, and all that I so want to give you baby, it's only a heartbeat away."
While you reminisce, you feel like they're only a heartbeat away from your ex and your heart still beats for them. Don't worry because it will keep beating, but it will hurt if you listen to this beautiful but sad song.
5. Yesterday – The Beatles
"Why she had to go, I don't know, she wouldn't say. I said something wrong, now I long for yesterday"
Back to classic rock, don't forget about The Beatles if you hope that you could turn back time and go back to the "yesterday" when all your troubles seemed so far away.
6. The One That Got Away – Ketty Perry
"In another life, I would make you stay, so I wouldn't have to say you were the one that got away."
You really want to cry your eyes out, don't you? Well, imagine your future self thinking about your ex as the one that got away.
7. It Must Have Been Love –Roxette
"It must have been love, but it's over now, it must have been good, but I lost it somehow"
Was it really love? If it hurts this much it had to be, right? Roxette will explain the rest.
8. Un-break My Heart – Toni Braxton
"Un-break my heart, say you'll love me again, undo this hurt you caused when you walked out the door and walked out of my life."
If you could only get your ex to un-break your heart maybe you'd be happy again, but this song is going to break your heart instead. It's one of the best breakup songs to listen to when you miss your ex if you want something beautifully painful.
9. Stay – Rihanna
"Not really sure how to feel about it, something in the way you move, makes me feel like I can't live without you, it takes me all the way, I want you to stay."
Rihanna is there for you and this woman gets how it feels to just want someone to stay even though you have to watch them walk away.
10. Nothing Compares To You – Sinead O'Connor
"It's been so lonely without you here, like a bird without a song, nothing can stop these lonely tears from falling, tell me, baby, where did I go wrong?"
I don't know whether you have heard this song or not, but it's going to blow your mind either way. This amazing singer's voice will touch your heart and hurt like hell if you still think your ex is the greatest person in the world.
11. Grenade – Bruno Mars
"Gave you all I had and you tossed it in the trash, you tossed it in the trash, you did, to give me all your love is all I ever asked."
Sometimes you give a person everything and get nothing in return. That's where Bruno Mars steps in and relates with how you feel.
12. I Will Always Love You – Whitney Huston
"If I should stay, I would only be in your way. So, I'll go, but I know, I'll think of you every step of the way. And I will always love you, I will always love you, you, my darling you."
Should I say more? Needless to say, this incredible singer also has a song "I Have Nothing" perfect for that breakup blues.
13. You Oughta Know – Alanis Morisette
"And I'm here to remind you of the mess you left when you went away. It's not fair, to deny me, of the cross I bear that you gave to me, you, you, you oughta know."
It's time to get a little angry though and let all that negative energy out with the ultimate breakup song by Alanis Morisette.
14. Irreplaceable – Beyonce
"So since I'm not your everything, how about I'll be nothing, nothing at all to you. Baby, I won't shed a tear for you, I won't lose a wink of sleep 'cause the truth of the matter is replacing is so easy."
If you've had enough of crying and you've let out all your anger too, let Beyonce make you feel empowered again.
15. I will survive – Gloria Gaynor
"At first I was afraid, I was petrified, kept thinkin' I could never live without you by my side, but then I spend so many nights thinking how you did me wrong, and I grew strong, and I learned how to get along."
In the end, know that you'll survive and go back to the classic, most famous breakup song ever. Yes, you will be afraid and spend sleepless nights for a while, but you will survive and come out of this stronger!
It's just your relationship that ended, your real love story is yet to begin.