Since the start of the coronavirus pandemic, travel has been conspicuously missing from our lifestyle. Although this is a part of life that has always been taken for granted as a leisurely activity that was so ingrained that it would never be ripped apart from our lifestyle, global travel has become not only difficult but also unattainable for many. This year, however, brings a lot of hope for global travel, and it is becoming increasingly possible to enjoy the exhilaration of stepping out of a plane into a new country again.
However, as the thoughts of traveling again set in, it is normal to struggle with serious wanderlust and imagine yourself exploring wild trails, discovering beautiful beaches, or even hitting some popular downtowns. Well, here are some of the trending destinations that boast untouched natural beauty, novel experiences, and fewer tourists, which make them a must-visit this year.
Palomino, Colombia
Palomino is a beautiful beachside town in Colombia, particularly great for tourists looking for a tropical and laid-back escape. For a memorable stay in Palomino, you can stay in a cabin just a few meters away from the sea and relish the magnificent beaches while spending your day times sunbathing and surfing. When the night comes, you can enjoy your evening meals in the open while getting entertained with live music. Most candle lite restaurants in Palomino serve freshly caught fish dishes. If you want to take your adventure even further, you can go tubing on the Palomino river with beautiful lush green backgrounds dotted with toucans and monkeys.
Leeuwarden, Netherlands
In 2018, Leeuwarden was voted as Europe's top cultural capital, finally, accorded the attention it deserves as a top travel destination in Europe from culture enthusiasts. Here, travelers would most definitely get spoilt for choice figuring out whether to explore Fries Museum, which exhibits Frisian treasures, Princessehof (which has a staggering collection of ceramic masterpieces) or the Pier Pander Museum which boasts a large collection of sculptures made by the eponymous artists. You can then cycle up to the Oldehove – a medieval leaning tower- whose top views offer jaw-dropping views of the city. There is just so much to explore in this city, including exhibitions that are dedicated to Leeuwarden's most famous residents.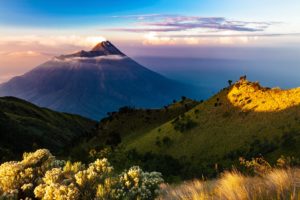 Nusa Penida, Indonesia
Nusa Penida is an exotic getaway destination located in the Southeast of Bali. The destination is breathtakingly beautiful and photogenic, offering sea cliffs that plunge deep into the aquamarine seas beneath it with gleaming sandy beaches and palm trees. Most visitors prefer to start their tour at the Kelingking viewpoint, after which they scramble down the steep paths to the relatively undiscovered white sands. Crystal Bay, Angel's Billabong (a natural infinity pool), and Giri Putri Cave are also equally attractive attractions of Nusa Penida. Before exiting this destination, be sure to try your hand in scuba diving or snorkeling for a truly exhilarating experience.
Maafushi, Maldives
There's no doubt that the Maldives is all about a tryst with nature and luxury traits also strongly possessed by the beautiful island of Maafushi. The island is home to 2000 people whose local economy largely depends on tourism. The region has about 50 guesthouses, unique white beaches and an alluring blue ocean, not to mention its world-renowned coral reefs.
Although the island was hit by a massive Tsunami in 2004, it has undergone remarkable restructuring, and most of its population is now employed in the tourism industry after ditching fishing. Maafushi's stunning beaches, heartwarming hospitality, and tropical weather will certainly put you in an unforgettable holiday mood.
Conclusion
There's no doubt that the majority of the world populace is still in the grips of the pandemic, and traveling for fun still seen as foolish or even downright risky. However, one thing is for sure, this situation will not last forever, and the world could be weeks, months, or possibly years to resuming normalcy. As a result, it's great to have these destinations in mind in time as the freedom to explore comes back in the cards.